TARA CARLIN attended Saoirse Ronan's screen talk at the BFI, where she talked about her childhood, working with Wes Anderson and her new film 'Brooklyn'. 
Saoirse Ronan is utterly charming – and not just because of her Irish accent. Outstandingly successful, she is the seventh youngest Oscar nominee, at only 13 years of age, for her performance in the film adaptation of Ian McEwan's Atonement. Despite this, she remains down-to-earth, making a career out of complex roles rather than typical "manic pixie dream girls". In her screen talk with the BFI, Ronan shared all she has learned about her craft so far, as well as exciting prospects and career moves on her horizon.
Ronan was a child actress whose first role was a clown in a short feature. Acting runs in the Ronan family. Saoirse's father, Paul Ronan, has a background in film. He moved with Saoirse's mother to New York, Saoirse's birthplace, to pursue acting. Ronan states: "My dad started out in construction, then he became a bartender, and eventually he was discovered by another Irish actor in a bar".
She praises her mother's firm grounding. "My mam came onto each job with me… she's not phased by any of it, except when she met John Travolta!". She retells the amusing tale of her mother meeting him at an awards ceremony: "He was in front of us with his wife and Mam just freaked out! She went to see Saturday Night Fever in the cinema 27 times." Ronan emphasises how fortunate she has been with a supportive network back at home: "I know I've talked about her a lot, but as I said she's not phased by any of it. She was my role model".
Working on what Ronan considers to be the triumph of her career so far, the film adaptation of Colm Tóibín's novel Brooklyn, has hammered home the importance of family relationships and a spiritual connection to one's home. She expresses her nostalgia: "I do sometimes mourn for the simplicity and beauty of living in a place where everyone knows each other". Ronan tears up when she shares a scene from the film that has Ronan's character Eilis reading letters from home. Brooklyn, for Ronan, highlights the universal feeling of homesickness, an emotion she is still experiencing having moved to London on her own in 2012. "For me, to shoot in a place that was 20 minutes from where I grew up was an incredibly vulnerable place to be. I always kept home and that aspect of my life [her career] separate".
The first film Saoirse made without being accompanied by a chaperone was Wes Anderson's The Grand Budapest Hotel in 2013 – an experience, she suggests, like no other. Anderson's directing is focused on aesthetic and he prepares for his films by creating detailed storyboards. Ronan recalls her first discussion with Anderson, when he explained how he voiced all the characters before they were cast and put them on a memory stick for the actors to listen to. Indeed, working with Anderson was a peculiar experience, but nonetheless endearing and inspiring: "We'd do about forty takes on one shot", Ronan laughs.
Ronan has appeared in her fair share of book-to-film adaptations, including The Lovely Bones, The Host, How I Live Now and an upcoming retelling of Chekhov's The Seagull. She raises an interesting point about adaptation. The literary community can be too hard on film adaptations, she comments: "People like to run away with comparing the novel to the script, but there always needs to be a shift in things in order for the story to fit that new format." Ronan does not have a particular method when it comes to adaptations; she had read Brooklyn before knowing about the script, but only by a matter of coincidence. She argues that an in-depth knowledge of the book isn't necessary when converting to film, before making light of the fact that "Ian McEwan was a bit heavy for me when I was 12 years-old, so I hadn't read Atonement before making that film".
Director John Crowley's Brooklyn is an exploration of everyday situations and real emotions, with no melodrama or cinematic embellishments. This differs greatly from Ronan's more recent projects having starred in dystopian science fiction dramas such as Lost River, Byzantium and Hanna. Playing Irish immigrant Eilis – who, like Ronan, makes her home in New York – required her to unlock personal emotions, rather than to escape into an entirely different character. In Brooklyn, actions that may initially seem mundane become alarmingly powerful and emotionally charged. Ronan states: "someone recently described it as a 'delicate' film – simple isn't the right word. It's incredibly emotional: we all know what that heaviness feels like". The 'heaviness' Ronan describes is homesickness, and the realization that you're growing up. She continues that "the film captures the gentle progression to that heaviness lifting, a girl becomes a woman: it's nothing overly dramatic".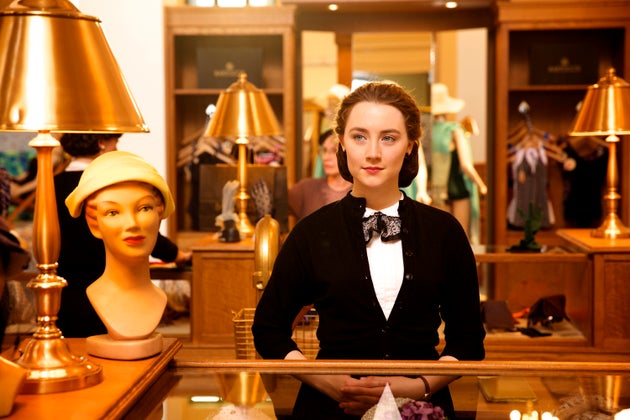 This was particularly difficult as a young actor, Ronan notes, because putting on accents, and an alien character in Hanna, allows for escapism: "the hardest thing was to strip something back and keep it as simple as possible". Perhaps more theatre directors like Brooklyn's Crowley, who are prepared to work with less over-powering cinematic effects, are needed in film: "he likes a great story and always talks about great performances he's seen. Theatre is much more raw and about our craft; it's refreshing to work with someone who would never let me get away with things. He'd always dial it back". That being said, working on Brooklyn was a high-pressure job: "we did quite a few takes. We shot the whole thing in 8 weeks. He never moved on until he had what he wanted. It very much took you out of your comfort zone – you knew he wasn't going to bullshit you".
Ronan has been fortunate to have such a varied career at only 21 years-old. Her artistic palate is only expanding further, with more intriguing projects to come, including her Broadway debut as Abigail Williams in Arthur Miller's The Crucible. Ronan also raised an interesting point about hoping to work with more female directors, as she told The Telegraph recently: "it's become a lot more important to me to help progress women in film, whether it's through the characters that we see on screen, or by working with female filmmakers, so that it becomes the norm for a woman to be a director, not a talking point." She adds what endeared her to Brooklyn was the representation of ordinary women, as opposed to them being overly sexualized and glamourized. Brooklyn is certainly the project she is most proud of. Who knows, an Oscar win may be added to the list of her successes.
'Brooklyn' is out now in cinemas nationwide.