HARRIET LEIGH reviews Joseph Cornell's 'Wanderlust' exhibition at the Royal Academy of Art.
The exhibition at the Royal Academy of Art displaying the career of New York-born artist Joseph Cornell wonderfully highlights the paradoxical nature of his life.
Born on Christmas Eve 1903, Cornell spent his free time, mostly during lunch breaks from his work in a textile factory, obsessively collecting trinkets that he found in antique second-hand book shops and junk shops. It was in this way, as well as being an avid reader with an incredible memory, that Cornell gained his knowledge on a huge scope of things, including exotic places around the world. Yet Cornell's work is tragically ironic as the disheartening reality is that he barely left his basement in New York, and travelled only as far as Maine for his summer holidays. Despite this, he managed to create sculptural collages that transport you to far away places with imagery of travel and ideas of exploration, both of which can be seen in nearly all of his works, from the antique postage stamps to records of scientific discovery.
The exhibition starts with video footage of New York as Cornell was keen to be at the forefront of new technology. The footage is slightly incongruous with the rest of his work. However, to a certain extent, the video does show his thirst for discovering new and exciting things. This leads into the juxtaposition of child's play with scientific exploration, the first part of four themes that his work is split into in his recent retrospective at the Royal Academy.
Cornell's interest with 'Play and Experiment' is shown by images of boys and girls playing with toys and parlour games in glass fronted 'shadow boxes' – the style the artist became famous for. Cornell used collage to create precise and detailed compositions made from his hoardings of humble objects. In these first few boxes, we see the Victorian idea that the combination of education and entertainment was essential for effective learning; something Cornell greatly believed in.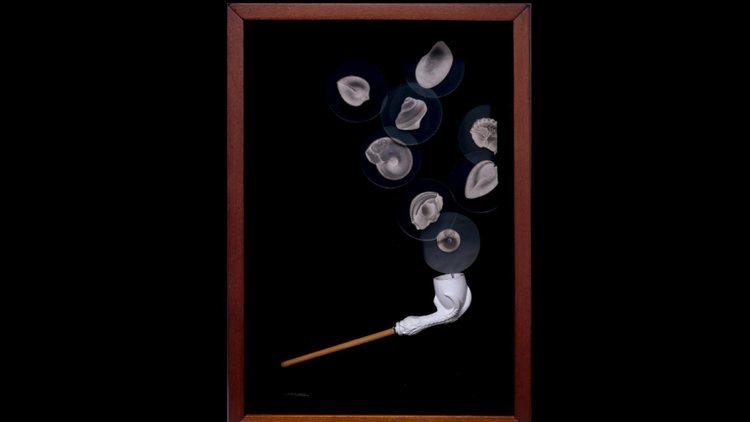 The exhibition moves on to show further detail of his 'Collecting and Classification' which gave him his encyclopaedic knowledge of poetry, literature, music, opera, astronomy and natural history. Influences of which can be easily recognised in his art. Cornell's artwork is based upon these systems of classifications, principles of selection, and ideas of repetition and contrast. Many of his shadow boxes share a single image altered in various ways. One of the most effective examples is his use of aviaries, which also represent his love for flight and freedom. He used apothecary cabinets, jewellery boxes and scientific cases to play with the language of museums, interweaving this with the ethereal and his obsession with ephemera.
With the analytical nature that comes with collecting and classifying, it is perhaps unsurprising that Cornell was a keen observer of the world around him, always making records of everyday details, such as the weather in his diaries. We are taken through the artist's 'Observations and Explorations', but instead of explorations to different places like in his physical 'Wanderlust', Cornell uses images to connect time and space, considering stars and astronomy a means of connecting with a physical past. The influence of astronomy and his desire to learn about the universe is evident in these pieces, with constellations and records of the sky appearing throughout.
By the late 1950's Cornell had achieved a level of success that meant he could have started visiting the places he had dreamt of. His work, dependent on contemplating the unattainable, also asserts the possibility of being in two places at once: physically and in the mind. The beautiful collages are placed behind glass, creating a paradox of boundaries against the limitless quality of imagination. Cornell made many homages to other artists, always ready to celebrate another person's talent and he made no distinction between high art and popular culture. He seemed to impressively create and curate a collection encompassing human endeavour across a huge scope of different cultural fields. Cornell's vivid imagination is made very clear throughout the exhibition as he travels all over the world in his mind, but as the exhibition draws to close it becomes clear that it is a longing for travel is at the heart of his artwork.
Joseph Cornell's Wanderlust exhibition ran until the 27th of September at the Royal Academy. Images of his work can be accessed on their website: https://www.royalacademy.org.uk/exhibition/joseph-cornell