With the re-release of David Lean's landmark classic of suburban romance and repression, CALVIN LAW delves into this 70 year old cinematic masterpiece which has lost none of its lasting power.
'When I behold, upon the night's starr'd face,/Huge cloudy symbols of a high Romance': these beautiful lines of Keats' When I Have Fears That I May Cease To Be are pondered in Brief Encounter by the happily, if somewhat mundanely, married couple Fred and Celia Jesson (Cyril Raymond and Celia Johnson). The juxtaposition of this mellifluous stream of poetry with the normality of a 1940's British household has always struck me as an essential moment in Brief Encounter from which the whole film is built around. The film is not like Gone With the Wind with its melodramatic, hefty moments of extreme romantic feeling. Instead, everything is in line with the repressive sense and sensibility of the times; yet through little cracks in the film, here and there, director David Lean crafts 'symbols of a high Romance', espousing eternal themes through a low-key but ultimately incredibly powerful mode of filmmaking.
Nowadays Lean is more known for his large-scale epics like The Bridge on the River Kwai, Lawrence of Arabia, and Dr. Zhivago: all great films, but it is really Brief Encounter, one of his smaller productions, which holds a special place in my heart. Without question, it is one of my favourite films of all time. Based on Noël Coward's one-act play Still Life (and adapted by the famed playwright himself), it depicts a typical 1940's British suburban housewife, Laura Jesson (Celia Johnson), whose highly conventional life is thrown into disarray when, by a chance 'brief encounter', she meets Dr Alec Harvey (Trevor Howard). I won't meander about the point any longer; if you haven't seen or heard of Brief Encounter before, take advantage of the 70th anniversary re-release commemorating its cinematic excellence.
It's a deceptively simple, intimate little drama that's incredibly easy to get into, beginning in medias res in an unremarkable waiting room at a train station. Yet the beauty of the film is quickly asserted, with the music of Rachmaninoff and the shades of lighting conveying an otherworldly vibe to the opening. The film takes its time getting the audience to the central romance. It's a lost art; the patience with which the script and camera survey the scene, with Lean conveying the blending together of social classes at the train station. In the foreground of the shot is Johnson's Celia and Dr Alex Harvey (Trevor Howard), quietly sitting at a table, sipping tea in the most British manner, and filled with internal sadness. It's an amazing opening sequence culminating with a voiceover delivered in Johnson's clipped, yet invitingly tender, intonations. Celia's voiceover is used throughout the film, divulging what's unsaid but palpably felt. It's her story we are to follow for the remainder of Brief Encounter.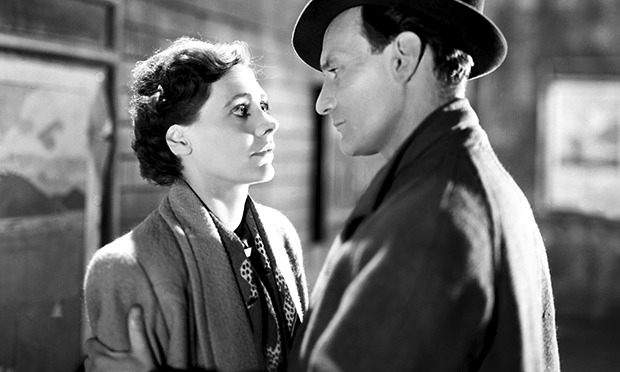 Johnson doesn't leave it merely to her voice to do all the work though. Hers is an intensely physical performance like no others, which never feels calculated; she fully embodies the character, with her every movement that of a convincing British housewife. Never a huge star (in part due to her own choice to sacrifice film work for the sake of taking care of her family, a decision which lends even more layers to the film), Johnson's filmography is comparatively small in contrast to many of her 1940's Hollywood contemporaries. Yet within her brief career she made the most out of every performance, from her wonderfully deadpan figure in the The Captain's Paradise, to her outstanding supporting role to Maggie Smith in The Prime of Miss Jean Brodie: no matter the role, she was perennially excellent. In Brief Encounter Celia Johnson's former collaborators, Coward and Lean – who had worked with her on In Which We Serve and This Happy Breed – sought her talents to play the role of Laura Jesson. She was born to play the role and the film's construction – frequent close-ups, long moments of silence focusing upon her  face – takes full advantage of this.
Not to be neglected is Trevor Howard's fantastically complex performance of what could've been a complete cipher of a romantic leading man. Some critics have raised issue with the ethics of Dr Alec Harvey's seduction, but in a way that's the point of Howard's performance. Howard's Harvey is subject to so many different interpretations that there's no singular way in which he plays the role: incredibly charismatic, he so perfectly captures the caring doctor that you'd be able to see why Johnson falls for him. Alternatively, you find a darker edge to his performance with his delivery of lines like 'would you mind, very much, if I came to the pictures with you?' as a possible indication of a routine seduction technique, hinting at a more callous character than what we see. But whether you find him a deceptive rogue, or just a lovely man, Howard's performance deserves a more attention than it usually gets.
Brief Encounter is a dated film, but that's not something to count against it. Lines like 'I'm sure I don't know to what you're referring' are so clearly of their time and yet feel so right within the film, trippingly spoken on the tongue and pleasing to the ears. The usually referential nature of Coward's dialogue is toned down and focuses more on subtly plumbing the depths of human nature, while the film's stylistic elements feel so 1940s, and yet at the same time so transcendent. The stereotypes of the lower-class comic relief characters are entertaining but shown to have darker issues of their own relatable to our own times. At first the character of Fred seems to be the archetypal hapless husband just waiting to be cuckolded, but by the film's conclusion he emerges as perhaps the bravest, kindest character of them all. The issues of fidelity, social status and image, and self-sacrifice are palatably felt now even in different contexts.
No matter where you're from, what age you are or whatever taste in films you have, watch the last few minutes of Brief Encounter and see what effect it has on you: it's powerful and unforgettable in the most unique sort of way. Near-silent, running a tumult of emotions, juggling together despair and hope so wonderfully: a small portion of Brief Encounter can encompass how great it is as a grand whole.
'Brief Encounter' has been re-released in selected cinemas in this month.