NOAH REICH gives us his take on this year's Oscar nominees, announced last week. 
Ah, awards season is upon us once more. Amid all the glitz and glamour, it is easy to forget the purpose of the Oscars – to honour the most impressive achievements in the film industry over the past 12 months.
Do they always get it right? Certainly not. The Academy Awards, along with their lesser cousins the Golden Globes and the BAFTAs, can be hugely influenced by the size and firepower of the studios that attempt to push them to awards glory. 'Campaigning' is now a term not only used in politics, but in the film world too. There seem to be clear tropes of 'what the Academy like' – films about the great US of A (Bridge of Spies), 'movies about movies' (Trumbo, previously Argo) and physically transformative performances (Eddie Redmayne in The Danish Girl, or The Theory of Everything): All tick boxes as 'Oscar bait', a phrase which will surely be making a dictionary appearance in the not-too-distant future.
This year has been a mixed bag for the film industry. Jurassic World and, more recently, Star Wars: The Force Awakens have smashed worldwide box office records and made 2015, at least superficially, a golden year in cinema history. However, it has not been a year filled with quality; the eight-strong field for the showcase award, Best Picture, is littered with forgettable films that I don't think would have been in contention in previous years.
Let's have a look at the films likely to come out victorious on February 28th.
BEST PICTURE
Likely winner: Spotlight, despite going home empty-handed at the Golden Globes, remains the frontrunner in a field of limited quality.
Contender: The Revenant, after Globes success, poses the most serious threat to Spotlight. A two-and-a-half-hour art installation, punctuated by ridiculous, if cinematographically impressive, brutal battle sequences, this would be a victory for style over substance.
Should win: Spotlight represented this year's most accomplished piece of filmmaking quite comfortably. A fascinating and thought-provoking true story of the journalistic investigation into the Boston Catholic Church's systemic child abuse, the film is expertly handled and powerfully performed.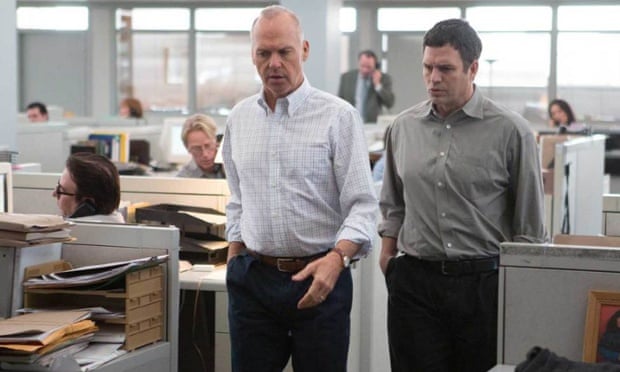 BEST DIRECTOR
Likely winner: Probably Alejandro Gonzalez Iñárritu. After robbing Richard Linklater (Boyhood) last year, could he repeat the feat? He be only the third director in history to take home consecutive awards (following John Ford and Joseph L. Mankiewicz), after his triumph for Birdman last year and his work on The Revenant. Whilst Iñárritu's direction is impressive – the camerawork of the first sequence of the film is particularly spectacular – his picture is unnecessarily grand, thin of plot, and as emotionally cold as the landscapes he salivates over.
Contenders: Tom McCarthy remains in the running for Spotlight.
Should win: George Miller's much-loved Mad Max: Fury Road has earned him a deserved nod. Todd Haynes' direction of Carol missed out on a nomination, despite being beautiful in its subtlety and understatement. But it is Tom McCarthy's handling of Spotlight that makes him the worthiest recipient of the award. Having learnt from his role in David Simon's final season of The Wire, in which he starred as a conflicted and unethical journalist, McCarthy exerts an air of total confidence upon his film, raising it from boardroom melodrama into a powerful and poignant ensemble piece.
ORIGINAL SCREENPLAY
Likely winner: Josh Singer and Tom McCarthy's writing on Spotlight seems the most likely victor in a field that is more difficult to call.
Contenders: Pete Docter, Meg LeFauve and Josh Cooley could be the first writers of an animated film to take home this prize for Pixar's wonderful Inside Out. Though somewhat shockingly, the stodgy and dull Bridge of Spies seems the most likely of the remaining field.
Should win: Perhaps Tarantino's most divisive work to date, The Hateful Eight remains a remarkable feat in screenwriting regardless of the film's quality as a whole. The writer retains his usual swaggering storytelling voice in this chamber piece, but gives it a more dramatic, theatrical quality than Tarantino's previous films. He has, however, been notably omitted from the nominations, giving way to the hugely popular Straight Outta Compton. Alex Garland's Ex Machina is very much an outsider, but is surely the most thought-provoking and powerful screenplay of the year.
ACTOR
Likely winner: Leonardo DiCaprio will finally take home an Oscar for The Revenant.
Contenders: Nobody will trouble Leo.
Should win: DiCaprio does, it must be said, carry the entirety of Iñárritu's film upon his shoulders, and delivers a decidedly gruff and moody performance. His performance in The Wolf of Wall Street was far more nuanced and studied, and would have resembled a more fitting victory, but who can begrudge Leo an Oscar on his 6th nomination? Eddie Redmayne is dreadful and cringe-inducing in The Danish Girl and shouldn't repeat his success of last year. It would have been nice to see Michael Caine nominated for his most accomplished performance in years in the wonderful Youth.
ACTRESS
Likely winner: Brie Larson is outstanding in the harrowing Room and should follow up her Globes triumph at the Oscars.
Contenders: Saorsie Ronan gives a stunning performance in Brooklyn for which she has rightly received her first nomination since 2007's Atonement.
Should win: Larson, Ronan or even Cate Blanchett (Carol) would all be worthy recipients. Jennifer Lawrence, one can only hope, will not surprise the field with victory for her work on Joy, a misfire of a film from David O'Russell which failed to pick up any other nominations.
SUPPORTING ACTOR
Likely winner: Mark Rylance (Bridge of Spies) is losing momentum in his one-on-one fight against Sylvester Stallone (Creed).
Contender: Nobody else looks capable of an upset.
Should win: Having not yet seen Creed, I cannot comment on Stallone. However, Mark Ruffalo's superb performance in Spotlight would be a deserving winner. Michael Keaton (also Spotlight) would have been an equally justified champion, but was surprisingly omitted from the field.
SUPPORTING ACTRESS
Likely winner: Rooney Mara is the picture of refinement in Carol and will likely take home the crown.
Contenders: The Hollywood Foreign Press enjoyed the half Russian, half American accent that Kate Winslet employs in Steve Jobs so much that they gave her a Golden Globe. Let's hope the Academy don't make the same mistake.
Should win: Mara gives the standout supporting performance of the year – male or female – in Carol. Jennifer Jason Leigh is excellent as the blood-soaked Daisy Domergue in The Hateful Eight too, and Alicia Vikander raises The Danish Girl above being the most unwatchable film in recent memory.