SEEHAM RAHMAN examines femininity and sexual politics in Polly Nor's satirical illustrations.
Sensuality, identity, and femininity are not new phenomena in illustration and storytelling. However, the modern woman of the 21st century represents an evolution of womanhood on an individual and societal basis. Art and design are not only articulating this social change but also actively engaging with it in pursuit of strengthening the perception of femininity.
As a woman of colour, I often find it difficult to find myself represented in Western Art in a three-dimensional way. Polly Nor's art speaks to the faults of my identity, bringing forth the wholeness of who I am. Even my demons are depicted as they really are, next to sensuous depictions of womanhood. My femininity is encapsulated; my fears revealed. The artist urges women to understand the toxicity of the internet-age through pieces such as In Your Dreams. Nor encapsulates the anxieties and responsibilities of keeping up an online identity. Red demons act as eyes of judgement hovering over the girl lying in bed beside her phone. She seems to be suffering from an episode of insomnia, perhaps plagued by the anxieties the gleeful demons disturb her with.
Nor especially shows the adverse effects of technology in assessing self-worth, and so builds a vital dialogue on all female identities and the concerns of internet culture as an influencing factor. Inclusivity as a salient and essential layer within the female experience is stressed. The side of myself that I understand as a woman of colour is addressed, and in a world that doesn't make time for ambiguity, seeing Nor's depictions of a unifying female experience is empowering.  
I was able to visit and revisit Nor's most recent exhibition Airing My Dirty Laundry in Public at Protein Studios in October. Recognised for her satirical, powerful and grotesque portrayal of the realities of female existence, Nor is brilliant in rendering her personal experiences relatable to other women through her art. 
As a woman living at a time cluttered by Instagram's endless supply of 'Facetuned' skinny bodies, I often find it difficult to distinguish the IRL (in real life) from the URL. Polly Nor, an Instagram sensation herself, channels this feeling through her work and creates vibrant characters who share their real selves through uncomfortable stories; she illustrates colourful bodies and phantasmal environments. Her illustrations are fantastical as she illustrates a private and public self. The private woman is embodied in drawings of a mysterious entity with red devil horns and a crimson body. Nor criticises and plays with the male construct of a 'Nasty woman', pointing out the stark differences between the expectations of a picturesque caricature, and the labelling of any deviation from this as 'nasty', often to negate female agency and power. The internalised woman, stripped bare of her literal skin, is represented by red devil horns. The title Be You But Better highlights the notion that women's selves are not enough, and that an outward appearance, a skin, must be constructed to hide the demonised aspects of our internal selves. The red horned figure is seated, laid back, tired, and finally relaxed in contemplation. In her right hand, she holds a mask made of skin. The room is littered with skins in the same manner clothing might be strewn across the floor. She wears these skins out as a display of a public self; she must hide the red person she truly is. Nor equates the skins with clothing, something that is essential in our day-to-day operations. The necessity of covering the nude, or covering the raw and truthful self is referenced in this illustration.
These selves are represented literally as 'nasty' or in a grotesque style, yet they are inclusive and important bodies. Nor's illustrations reclaim the woman's body. She plays into the criticism of a 'Nasty woman' and makes visual puns on the word. The 'Nasty woman', whose agency is deflated, is also literally shown as deflated in the skins depicted around the red figure.
Known for exposing the difficulties of female sexuality, emotions and the struggle to conceal, I respect Nor's vigorous illustrations for their honesty. She is not afraid to expose the disturbing realities of abuse, mental health and to openly discusses what lies under a woman's mistreated human skin. No filter hints to indulging addictions with smoking, or alcoholism. Nine presents the damaged self, embracing and accepting the external self. The visual devices of skin, and the motif of layering ease images of our own internal nastiness, creates a more three-dimensional way of female representation in artworks. She is an important figure in facilitating the conversation of tackling feminine issues, particularly those of identity, especially for young women.
Nor's latest exhibition included a range of her art. Moving away from her most well-known style of hand-drawn digital illustration, the most recent media she has explored is three dimensional. Her sculptural installation 'Laundry, Repairs & Alterations' delves into the obscured topics of womanhood through her latex and wax made human skin and bodies. Her art displays the intimacies and the tediousness of maintaining a feminine existence.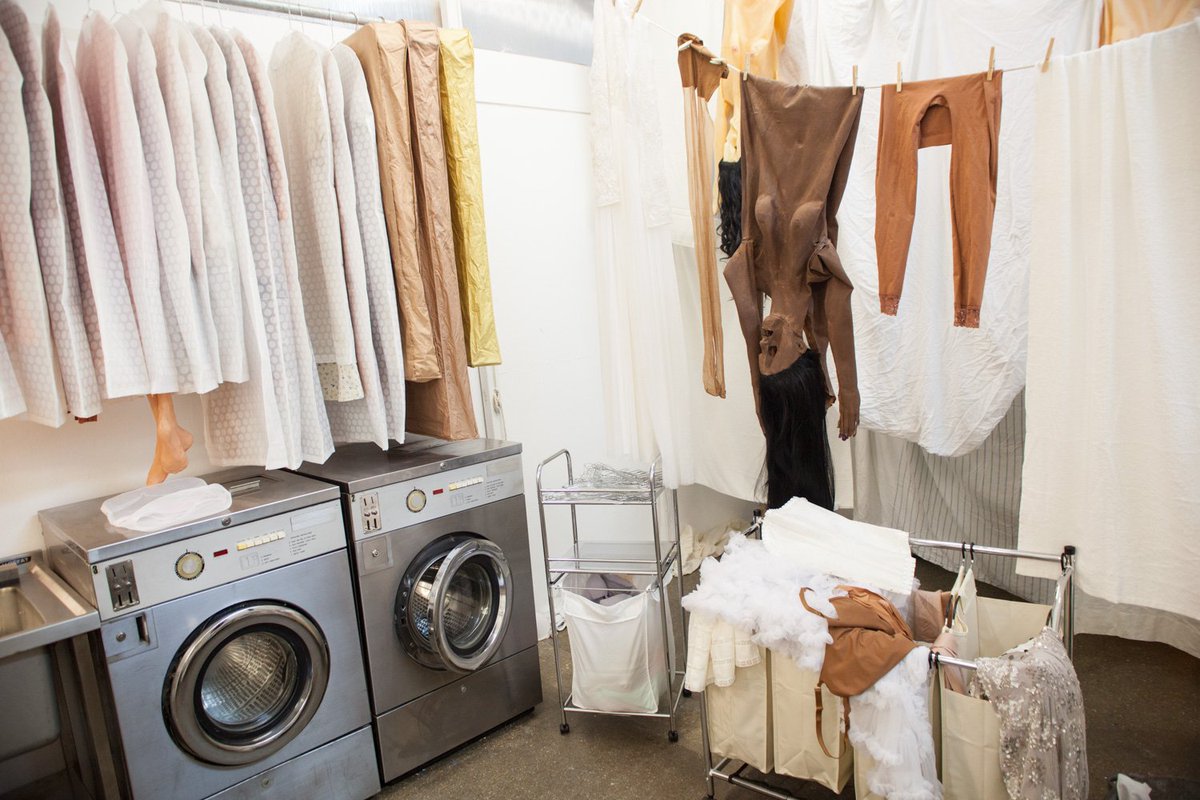 In her third innovative exhibition, the artist manipulates the female body in distinctive ways, experimenting with new materials such as ceramics to create naked portrayals of women. Her 39-part series 'A Spanner In The Works' is a unique form of storytelling which brings her eerily comedic prints together to portray a personal account of an unhealthy, abusive and harmful dependency, which may resonate with many women. Complementary to this is her 3D ceramic sculpture 'The Drama Follows Me' and 'Immaculate Conception' illustrations which also explore various elusive parts of the female life, from masturbation to birth. Coherently visualising aspects of female life labelled as vulgar, Nor uses a vibrant colour palette and racially diverse women figures in her illustrations. It is understandable why Polly Nor's style and works are often idolised.
Nor's work is accessible to all; it provides a profound narrative which women from a variety of backgrounds can relate to. She exposes issues not only related to social media but also relevant to sexuality, toxic relationships, friendship and mental health. In the fantasised world of her art, the devil walks freely amongst us, in ourselves, showing its face through our minds, insecurities, and relationships.
Featured image: Polly Nor, Face 2 Face, October 2016, hand-drawn digital illustration, 1200 x 1200. Image credit: Polly Nor Studios.
More information about Polly Nor and her work may be found on her website here.